January 27th, 2014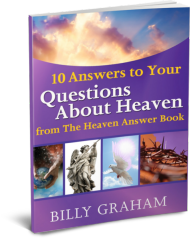 Gain immediate access to our new FREE eBook,10 Answers to your Questions about Heaven by Billy Graham. This resource is full of deep, insightful, and Biblical answers to the most common questions asked about Heaven written by one of Christianity's most beloved evangelists, Billy Graham!
God's Word says Heaven awaits all the saints of His kingdom, but how many of us really know what Heaven will be like?
Billy Graham answers your most common questions about heaven, such as:
What is Heaven?
What does the resurrection of Jesus have to do with Heaven?
Will we recognize and be reunited with our loved ones?
Is anything about Heaven imperfect or incomplete?
Will we be judged in Heaven or receive rewards in Heaven?
Will there be animals in Heaven?
And more!